Our staff is headed by Francis de Riba, Ph.D., a clinical psychologist, certified biofeedback therapist and founder and director of the Center for Stress Control (CSC) in Geneva, Switzerland. CSC is an internationally recognized center dedicated to provide educational resources, techniques and training in managing the negative effects of stress on individuals, small groups, organizations and corporations. The Center now serves as a model for other centers that have opened in the Middle East, Italy and Switzerland.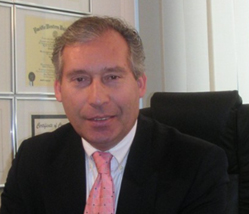 Licensed as a HeartMath Practitioner from the Institute of HeartMath. He uses HeartMath's emWave Pro technology to help train individuals to self-regulate their emotions and Heart Rate Variability (HRV) for the purpose of achieving an optimal psychological and physiological state.
Former Stress Counselor for the Office of the High Commissioner for Human Rights. He provided assistance for staff at HQ and in the field (Middle East, Latin America, and the Far East) in managing the effects of excessive and chronic stress. He also developed programs, self-help manuals and organized workshops to help staff enhance their job performance and heighten their personal effectiveness in the areas of communication, conflict management, team building, emotional intelligence and stress resiliency.
Established a confidential online e-counseling service (using email) for UN staff members experiencing professional related issues, personal concerns, emotional problems or traumatic stress while working in the field. E-counseling provided staff with information, psychological advice and support when traditional health care services were not convenient, accessible or preferred.
Fellow of the American Institute of Stress, he has been involved in clinical and experimental research on behavior modification and on models for identifying people at high risk to develop chronic stress-related disorders.
Author of a book on stress management entitled "La Réponse Apaisante au Stress" published by Jouvence (2003).
Developed and published training manuals for the World Health Organization and the Geneva University Hospital on various mental health issues including insomnia, somatization, depression and anxiety.
Collaborated with the Social Development Office, Royal Court, Kuwait and the World Health Organization concerning the establishment of a center for the treatment of post-traumatic stress disorders in Kuwait.
Member of the Biofeedback Society of America and the Biofeedback Society of New York, trained in clinical biofeedback at the New School of Social Research in New York, and completed the program in Advanced Training in Psychophysiological Therapy at the Menninger Foundation in Topeka, Kansas, USA.
He also specializes in developing and presenting smoking cessation programs. He holds an Inter University diploma in tobacco control and withdrawal treatment from the University of Claude Bernard in Lyon, France.
Currently conducts seminars and workshops on managing stress, emotional intelligence, burnout and smoking cessation for the Health Services of the City and State of Geneva, Switzerland. Previous clients included: the University of Geneva, banks (Crédit Suisse), private clinics (Biotonus Clinic Bon Port, Montreux), business groups (Centre de Perfectionnement des Cadres, Geneva), corporations (Caterpillar) and international organizations (United Nations, OCDE, World Economic Forum).
He is bilingual in English and French.