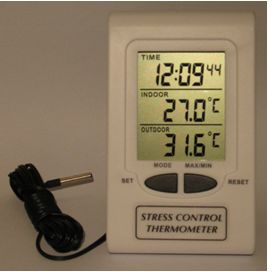 The Stress Master Program is a complete self-training package to teach you how to both recognize tension and to control it. The program includes an LCD digital thermometer, self-training guide and a special alpha binaural beats and isochronic tones relaxation CD. Simple instructions show how to operate the digital thermometer. You'll learn about stress and temperature and how to recognize and break the stress cycle.
With the "StressRelease" relaxation CD you will feel the tension unwind throughout your body. You'll be guided into what scientists call an "Alpha" state of consciousness, where deep relaxation and restoration occur. You'll emerge refreshed, recharged, and ready to proceed with new calm and clarity.
Essential to the success of the program is training with the Stress Control Thermometer (SCT) as well as relaxing with the CD. The SCT measures the amount of life supporting blood that is flowing to your hand and fingers. The SCT does this by measuring the temperature of your fingers. Your blood flow is directly proportional to hand temperature in a normal 21-23°C; 70-74°F environment.
When you become alarmed, excessively vigilant, anxious, or significantly stressed, the blood to your hands and fingers shuts down dramatically and the SCT senses this and tells you, you are becoming stressed. The SCT is based on the following physiological principle:
Situations of tension, insecurity or danger make the blood rush towards the vital organs, far from the body's extremities (hands and feet). The SCT shows exactly what your stress level is down to 1/10 of a degree Celsius or Fahrenheit. For example, when you're feeling worried and tense, your hand temperature may drop to 24,1°C; 75,5°F (cold hands). On the contrary, when you become relaxed, circulation becomes normal again in your extremities, the fingers warm up and hand temperature may steadily climb up to 35,2°C; 95,5°F (warm hands). The SCT has been used for years by researchers and therapists for the reduction of stress and stress-related disorders through temperature biofeedback training.
Stress Control Thermometer Specifications:
– Digital Clock and simultaneous display of room and hand temperature (with desktop stand)
– Selectable temperature display (Celsius or Fahrenheit)
– Date and 12/24 hour display
– Memory of highest and lowest read temperature
– Operates on two LR03 / AAA batteries (included)
– Measurement Range: – 10°C to + 60°C (room temperature)
15,5°C to 37,2°C or 60°F to 99°F (hand temperature)
– 2 m Cable (hand temperature sensor)
– Dimensions: 12cm high x 7cm wide x 2cm deep
– Warranty: Limited 30 days parts and labor due to defective workmanship (excluding batteries)